Yeah, that's right.
Administrator
Nov 10, 2003
8,416
16
735
35
Rupees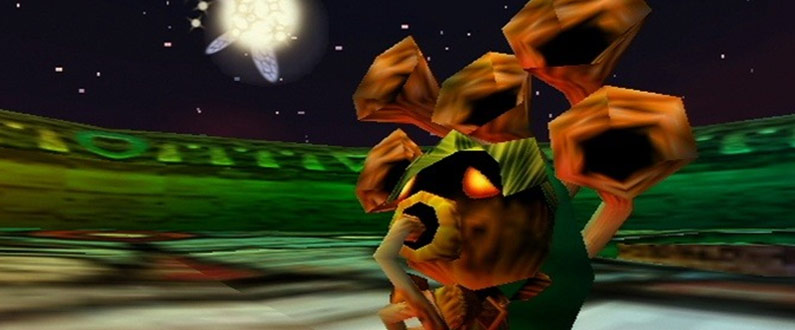 It's that time of year again when Ghinis, Stalfos, and Gibdos run wild. As is tradition, we have updated our
Radio to play our favorite Halloween video game tunes
. Our current playlist is below. Have an idea for a soundtrack that should be included? Leave us a post on the forums and we'll see about getting it added!
Mortal Kombat - The Graveyard.mp3
EarthBound - The Deep Darkness.mp3
Diddy Kong Racing - Darkmoon Caverns.mp3
Diddy Kong Racing - Haunted Woods.mp3
Super Mario Bros 3 - World Map 8 Dark Land.mp3
Super Mario World - The Evil King Koopa BGM.mp3
Super Mario World - Haunted House BGM.mp3
Super Mario World - Sub Castle BGM.mp3
Super Mario World - Map 5 (Forest of Illusion).mp3
Mario Golf - Boo Valley.mp3
Super Mario Kart - Ghost.mp3
Super Mario 64 - Dire, Dire Docks.mp3
Super Mario 64 - Haunted House.mp3
Banjo Kazooie - Mad Monster Mansion (Exterior).mp3
Banjo Kazooie - Witch's Lair.mp3
SSBB - Link to the Past - Dark World Woods.mp3
Super Castlevania IV - Dracula Battle & Death.mp3
Super Castlevania IV - The Courtyard.mp3
Super Castlevania IV - Ending.mp3
Super Castlevania IV - Boss 1.mp3
Super Castlevania IV - Into The Castle.mp3
Super Castlevania IV - Prologue.mp3
Super Castlevania IV - The Cave.mp3
Super Castlevania IV - Theme Of Simon.mp3
Super Castlevania IV - Title.mp3
Super Castlevania IV - The Forest Of Monsters.mp3
Super Castlevania IV - Vampire Killer.mp3
Super Castlevania IV - Boss 2.mp3
Castlevania - Intro.mp3
Castlevania - Stage 1.mp3
Castlevania - Stage 4.mp3
Castlevania - Draculas Chamber.mp3
Castlevania - Ending Theme.mp3
Castlevania - Boss Battle.mp3
Castlevania - Stage 6.mp3
Castlevania - Final Boss Battle.mp3
Castlevania - Stage 5.mp3
Castlevania - Stage 3.mp3
Castlevania - Stage 2.mp3
Castlevania - Stage 7.mp3
Castlevania II - Manor.mp3
Castlevania II - Town Theme.mp3
Castlevania II - Final Battle.mp3
Castlevania II - Night.mp3
Castlevania II - Epilogue.mp3
Castlevania II - Daytime.mp3
Castlevania II - Password.mp3
Castlevania II - Draculas Castle.mp3
Symphony of the Night - Abandoned Pit.mp3
Symphony of the Night - Blood Relations.mp3
Symphony of the Night - Metamorphosis I.mp3
Symphony of the Night - Metamorphosis III.mp3
Symphony of the Night - Wandering Ghosts.mp3
Symphony of the Night - Dracula's Castle.mp3
Symphony of the Night - Final Toccata.mp3
Symphony of the Night - Door of Holy Spirits.mp3
Symphony of the Night - Festival of Servants.mp3
Symphony of the Night - I am the Wind.mp3
Symphony of the Night - Death Ballad.mp3
Symphony of the Night - Dance of Illusions.mp3
Symphony of the Night - Prayer.mp3
Symphony of the Night - Tower of Mist.mp3
Symphony of the Night - Requiem for the Gods.mp3
Symphony of the Night - Metamorphosis II.mp3
Symphony of the Night - Curse Zone.mp3
Symphony of the Night - Black Banquet.mp3
Symphony of the Night - Marble Gallery.mp3
Symphony of the Night - Prologue.mp3
Symphony of the Night - Dance of Pales.mp3
Symphony of the Night - The Tragic Prince.mp3
Symphony of the Night - Lost Painting.mp3
Symphony of the Night - The Door to the Abyss.mp3
Symphony of the Night - Moonlight Nocturne.mp3
Symphony of the Night - Nocturne.mp3
Symphony of the Night - Rainbow Cemetery.mp3
Ducktales Remastered - Transylvania.mp3
Majora's Mask - Calling the Four Giants.mp3
Majora's Mask - Deku Nut's Palace.mp3
Majora's Mask - Woodfall Temple.mp3
Majora's Mask - Goron Race.mp3
Majora's Mask - Marine Research Laboratory.mp3
Majora's Mask - Shooting Gallery.mp3
Majora's Mask - Gorman Track.mp3
Majora's Mask - Keaton's Quiz.mp3
Majora's Mask - Majora's Magic Emperor Battle.mp3
Majora's Mask - Giant's Theme.mp3
Majora's Mask - Staff Roll.mp3
Majora's Mask - Dancer.mp3
Majora's Mask - Clock Town - Day 3.mp3
Majora's Mask - Ikana Valley.mp3
Majora's Mask - Get Goron Lullaby.mp3
Majora's Mask - Middle Boss Battle.mp3
Majora's Mask - Majora's Theme.mp3
Majora's Mask - Opening Demo.mp3
Majora's Mask - Shop.mp3
Majora's Mask - House.mp3
Majora's Mask - Pirate Fortress.mp3
Majora's Mask - Great Bay Coast.mp3
Majora's Mask - Mayor's House Council Room.mp3
Majora's Mask - Stone Tower Temple (Inside).mp3
Majora's Mask - Majora's Mask Battle.mp3
Majora's Mask - Battle.mp3
Majora's Mask - Ikana's Ancient Castle.mp3
Majora's Mask - Fairy's Fountain.mp3
Majora's Mask - Goron's Shrine.mp3
Majora's Mask - Cremia's Wagon.mp3
Majora's Mask - Boss Battle.mp3
Majora's Mask - Mask House Theme.mp3
Majora's Mask - Title Demo.mp3
Majora's Mask - Jabu's Curse.mp3
Majora's Mask - Clock Tower.mp3
Majora's Mask - Snow Mountain.mp3
Majora's Mask - Astral Observatory.mp3
Majora's Mask - Snowhead Temple.mp3
Majora's Mask - Cave.mp3
Majora's Mask - Catch & Trail Meet Again.mp3
Majora's Mask - Clock Town - Day 2.mp3
Majora's Mask - The Monsters Raid.mp3
Majora's Mask - Fukurowa.mp3
Majora's Mask - Clock Town - Day 1.mp3
Majora's Mask - Majora's Mask Moon.mp3
Majora's Mask - Guru-Guru's Song.mp3
Majora's Mask - Music Box House.mp3
Majora's Mask - Zora Hall.mp3
Majora's Mask - Stone Tower Temple (Outside).mp3
Majora's Mask - Romani Ranch.mp3
Majora's Mask - Milk Bar.mp3
Majora's Mask - Horse Race.mp3
Majora's Mask - Jungle Cruise.mp3
Majora's Mask - Kamaro's Dance.mp3
Majora's Mask - Last End.mp3
Majora's Mask - Mini-Game.mp3
Majora's Mask - Great Bay Temple.mp3
Majora's Mask - Song of Healing Demo.mp3
Majora's Mask - Cucco House Game.mp3
Majora's Mask - Majora's Reincarnation Battle.mp3
Majora's Mask - Marsh Land.mp3
Majora's Mask - Termina Field.mp3
Majora's Mask - Chase Theme.mp3
Majora's Mask - Magic Hag's House.mp3
Majora's Mask - Fencing Grounds.mp3
Majora's Mask - Woods of Mystery.mp3
Majora's Mask - Recollection of Zelda.mp3
LTTP - Dark World.mp3
Ocarina of Time - Shadow Temple.mp3
Ocarina of Time - Kotake & Koume's Theme.mp3
Time's End - Majora's Mask.mp3
Time's End - Clocktown.mp3
Time's End - Final Hours.mp3
Time's End - Terrible Fate.mp3
Time's End - Healing the Great Fairy.mp3
Time's End - Lovers Mask.mp3
Time's End - Moon's Tear.mp3
Time's End - Time's End.mp3
Time's End - The Clockworks.mp3
Time's End - Majora's Wrath.mp3
Kingdom Hearts - Traverse Town.mp3
Kingdom Hearts - Spooks of Halloween Town.mp3
VG Metal - Hall Of The Zombie King.mp3
VG Metal - Mad Monster Mansion.mp3
Alan Wake - The Clicker.mp3
Alan Wake - Electrica Cadente.mp3
Alan Wake - A Writer's Dream.mp3
Alan Wake - Welcome To Bright Falls.mp3
Duck Tales - Transylvania.mp3
Ghosts 'n Goblins - Boss Battle.mp3
Ghosts 'n Goblins - Ending Theme.mp3
Ghosts 'n Goblins - Hurry up.mp3
Ghosts 'n Goblins - Stage Theme 01.mp3
Ghosts 'n Goblins - Stage Theme 02.mp3
Ghosts 'n Goblins - Stage Theme 03.mp3
Ghosts 'n Goblins - Stage Theme 04.mp3
Luigi's Mansion - Ballroom.mp3
Luigi's Mansion - Boolossus.mp3
Luigi's Mansion - Credits.mp3
Luigi's Mansion - Dark Rooms.mp3
Luigi's Mansion - Game Boy Horror.mp3
Luigi's Mansion - Intro Story.mp3
Luigi's Mansion - Intro To The Mansion.mp3
Luigi's Mansion - Last Battle.mp3
Luigi's Mansion - Luigi Meets The Professor.mp3
Luigi's Mansion - Playing Mini Games With Ghosts.mp3
Luigi's Mansion - The Floating Key.mp3
Luigi's Mansion - Title Screen.mp3
Maniac Mansion - Bernard's Theme.mp3
Maniac Mansion - Dave's Theme.mp3
Maniac Mansion - Edison Alien Theme.mp3
Maniac Mansion - Game Over.mp3
Maniac Mansion - Jeff's Theme.mp3
Maniac Mansion - Main Theme.mp3
Maniac Mansion - Mark's Theme.mp3
Maniac Mansion - Michael's Theme.mp3
Maniac Mansion - Piano Jam.mp3
Maniac Mansion - Razor's Theme.mp3
Maniac Mansion - Syd's Theme.mp3
Maniac Mansion - Talk Show.mp3
Maniac Mansion - Tentacle's Cassette Recording.mp3
Maniac Mansion - Wendy's Theme.mp3
Nightmare on Elm Street - Elm St Cemetery.mp3
Nightmare on Elm Street - Elm St High School.mp3
Nightmare on Elm Street - Elm Street.mp3
Nightmare on Elm Street - Ending Theme.mp3
Nightmare on Elm Street - Final Battle.mp3
Nightmare on Elm Street - Freddy is Coming.mp3
Nightmare on Elm Street - Freddy's House.mp3
Nightmare on Elm Street - Freddy's Theme.mp3
Nightmare on Elm Street - House Stage 01.mp3
Nightmare on Elm Street - House Stage 02.mp3
Nightmare on Elm Street - Junk Yard.mp3
Nightmare on Elm Street - The Attic.mp3
Nightmare on Elm Street - The Basement.mp3
Nightmare on Elm Street - Title Theme.mp3
Zombies Ate My Neighbors - Boss Battle.mp3
Zombies Ate My Neighbors - Curse of the Tongue.mp3
Zombies Ate My Neighbors - Evening of the Undead.mp3
Zombies Ate My Neighbors - Mars Needs Cheerleaders.mp3
Zombies Ate My Neighbors - Mushroom Men.mp3
Zombies Ate My Neighbors - No Assembly Required.mp3
Zombies Ate My Neighbors - Pyramid of Fear.mp3
Zombies Ate My Neighbors - Titanic Toddler.mp3
Zombies Ate My Neighbors - Unused (Sound Code ).mp3
Zombies Ate My Neighbors - Weird Kids on the Block.mp3
Zombies Ate My Neighbors - Zombie Panic.mp3
Last edited: